About the 3rd Summer Law School Olomouc on Medical Law
The 3rd Summer Law School on Medical Law was organized by Palacký University in Olomouc, Faculty of Law and ELSA Olomouc from 25th June to 5th July 2017. To its participants from Russia, Ukraine, Spain, Great Britain and the Czech Republic it offered a uniquely designed programme focused on mental health law and pharmaceutical law. The offer included not only intellectually stimulating debates and lectures given by international and Czech experts from various fields (law, medicine, natural sciences, pharma industry), but also a rich social programme creating a vibrant and diverse atmosphere. The participants were involved in a mass casualty accident simulation under the auspices of the Olomouc County Emergency Medical Services; watched a professional autopsy at the University Hospital or had criminalistic methods explained by experts from Department of Analytical Chemistry and much more.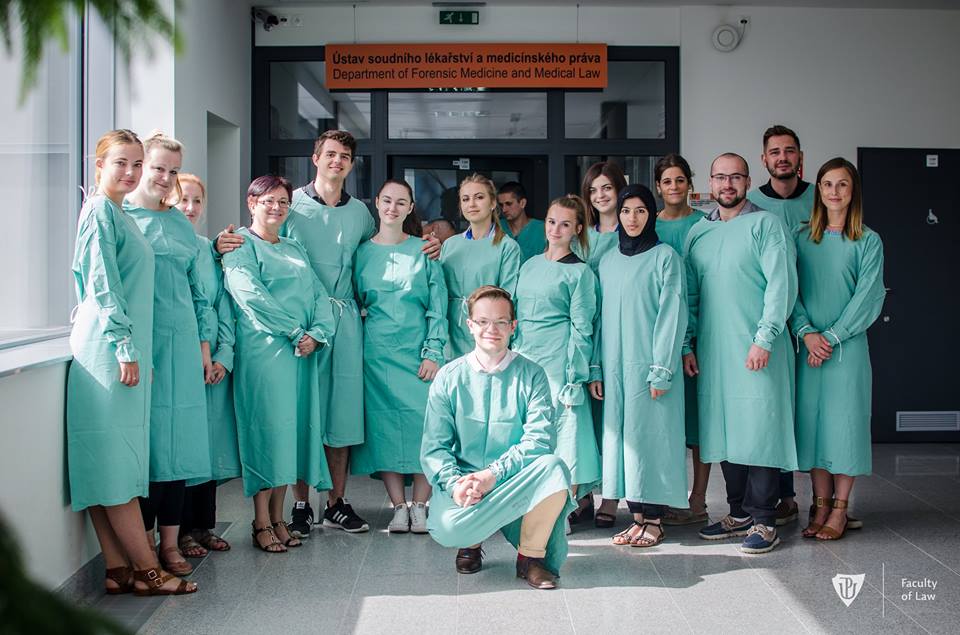 Testimonials
"I would like to sum up my participation in Summer Law School 2017. It was a great opportunity to enhance my knowledge in terms of medicine law thanks to very interesting lectures. I had a unique chance to see the methods of people working in forensic, criminal or rescue areas. The best thing is I was educated while still being in the beautiful city of Olomouc and being around my beloved Palacký University." (Filip, Czech Republic)
"What can I say about the summer school? This is a great opportunity for students from different countries to expand their knowledge, find new friends and have a wonderful time in the beautiful city of Olomouc. I'm glad that I could participate in this summer school. I have many wonderful memories. I want to thank the organisation team!" (Anzhelika, Russian Federation)
"Summer School was one of the best experiences of my life! It was where we were able to socialise with people from different walks of the world and learn medical law from different perspectives both theoretically and practically at the same time. If you are looking for a wholesome adventure, this is the programme for you!"(Habiba, Great Britain)
Introduction
Are you interested in enhancing and expanding your knowledge in the branch of forensic law and forensic medicine? Would you like to spend 14 amazing days in Olomouc, Czech Republic focusing on issues related to this very interesting and attractive topic from theoretical (lectures or panel discussions led by domestic and international experts) as well as practical (e.g. visit of a real professionally commented autopsy) point of view? Then the offered Summer Law School Olomouc 2018 on Medical Law is the right one for you!
Basic information
When: 8th July – 22nd July 2018
Where: Olomouc, Czech Republic
Topic: Medical Law
ECTS: 5
Olomouc – University city
The university plays a very important role in the life of the town: With over 25,200 students (including those at Moravian College Olomouc). Olomouc has the highest density of university students in Central Europe. Many of the town's services are student-oriented.
Not sure yet? After watching the following videos you will be determined to sign in!